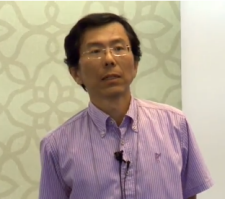 We are sorry everyone couldn't come for this amazing experience. Dr. Chen's information was life changing; I heard gasps of amazement from the audience during his presentation.
If you weren't able to come all is not lost! If you were not able to come to our amazing weekend you can still have the information because we hired a professional recording company that did a three camera shoot to record Dr. Chen's incredible (approximately) 6-hour presentation.
So you'll save on travel expenses, hotel and seminar costs but you'll still be able to enjoy the experience at a reduced price.
I loved Dr. Chen's talk, I look forward to when he will speak for us again. Time seemed to just fly by and I realize that I may not have remembered it all. - Diane Schroeder, DC
I understood Dr. Chen perfectly (99%). He has a good sense of humor and is rather funny.- Joe Bogart, DC
Dr. Chen presentation covers:
His journey from orthodox academia while he was working with the National Institutes of Health/Health National Cancer Institute making the painful decision to leave the successful career he spent a lifetime building following the path of conscience and integrity.
The science and art of detoxification. Detoxification is found in every culture and yet, in today's highly toxic world where it is needed most, it is used less and less and often poorly understood.
Discusses the many ways we can add detoxification to our lives and our practices. He will give practical day-to-day advice that can be used by the lay person as well as the professional.
The internal and external toxicities that arise are the root cause of many chronic illness including cancer, MS, Parkinson's, Alzheimer's, autism, ADD and other conditions that were rare.
Speaks to our natural intuitive abilities, what they are and how to use and develop them. Plus he discussed ways to improve your KST sensitivity AND the Trinity of Health that included nourishment, purification and detoxification.
We will be doing post-production work which includes re-designing all Dr. Chen's PowerPoint slides for insertion in relevant parts of his presentation PLUS…subtitles (captions) for his entire 6-hour presentation. You can play it without sound in your waiting room. (That was Dr. David Hoewisch's idea).
About Dr. Chen
Dr. Lichuan Chen was born in Taiwan. He earned his PhD in toxicology at the University of Kentucky and did post-doctoral research at the National Cancer Institute of the National Institutes of Health in Bethesda, Maryland (outside Washington, DC). He continued his work at the Office of Alternative Medicine, now renamed National Center for Integrative Medicine.

At the age of 37 Dr.Chen discovered his medical intuitive abilities while studying human energy systems and has integrated his talents to create unique wellness systems. Presently Dr. Chen spends his time teaching in Taiwan and Malaysia and brings people to India to experience ancient Indian healing and detoxification procedures from the system known as Siddha Vaidya which pre-dates Ayurvedic medicine. He will conclude his presentation with a special talk: The Nine Steps Towards Wellness.
4 ways to buy this valuable presentation:
Streaming only to you computer/TV.
Streaming only with 1-on-1 consultation with Dr. Chen
DVD set ( plus shipping* )
DVD set (plus shipping*) with 1-on-1 consultation with Dr. Chen
What your colleagues said about the presentation:
I feel truly blessed to have found the KST family. Dr. Chen's seminar was not only informative and enlightening but fun to attend. Dr. Chen was a wealth of knowledge and clearly has a passion to help people to improve every aspect of their lives. I can't wait to receive my copy of the seminar video. Thank you so much for bringing Dr. Chen to us. Dean Schwartz RN, DC, ACN
As always a wealth of information from Dr. Chen. Just love coming to these seminars. - Craig Begani, DC
I loved the seminar, Dr. Chen's class was great. - Eleanor L. Rolnick, DC Biddeford, ME
I loved Dr. Chen's talk, I look forward to when he will speak for us again. Time seemed to just fly by and I realize that I may not have remembered it all. - Diane Schroeder, DC
* Shipping DVD set $8 domestically/ $16 internationally.
Dr.Chen 2016 - Pre-order - Streaming Only
Qty:
Price:
Units:
1+
$399.00

$169.00

sets of 1

---
Dr.Chen 2016 with consult - Pre-order - Streaming Only with 1 on 1 consult
Qty:
Price:
Units:
1+
$499.00

$269.00

sets of 1

---
Dr.Chen 2016 DVD - Pre-order - DVD set
Qty:
Price:
Units:
1+
$429.00

$199.00

sets of 1

---
Dr.Chen 2016 DVD Consult - Pre-order - DVD Set with 1 on 1 consult
Qty:
Price:
Units:
1+
$529.00

$299.00

sets of 1

---